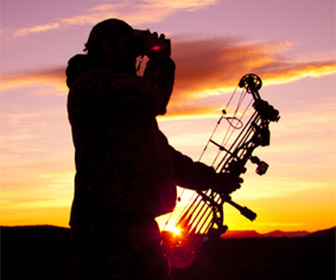 By Matt Carroll
There are lots of good reasons to hunt with a bow: longer hunting season, quieter kills, and I would argue that it is more challenging and more rewarding than gun hunting. So once you decide that bow hunting is for you, there is one more decision to be made: compound bow or recurve bow?


Compound Bow

The compound bow was first made in 1966 in Missouri by Holless Wilbur Allen, Jr. Compound bows take advantage of pulleys to create a bow that can hold a tremendous amount of energy without too much strain on the hunter. What this means is that when you pull back the string of the bow, it gets harder and harder, until it reaches the "break over" point. Once passed, the amount of force needed to hold the bow at full draw is reduced by as much as 80%. So even if you don't sport the upper body of a Greek god, you can still hold a bow at full draw and potentially kill something with it.

Because of the extreme let off of pressure past the break over point, you can shoot with more pounds of pressure than with a recurve bow. You can also hold the bow fully drawn for quite a while without getting tired or shaky, which is sometimes necessary for shooting big game. If you are sitting in a treestand in a wooded area, you may have to sit at full draw for a while before getting the perfect shot at a deer. It also means you can shoot further with a compound bow than with a recurve. More pounds = more yardage.

Many people who use compound bows use sights. These basically make it easier to aim if you know how far you are from your target. On the up side, your shot is easier. However, recurve purists will argue that this takes away the "instinctual" part of shooting. It is important to note that just because many people do use sights on their compound bows, does not mean that you have to use a sight. You can still be "instinctual" with a compound bow.

Another accessory used with compound bows (but not necessary) is a trigger release, or "release" for short. This also helps the hunter pull back the bow, as not all the weight is being held by two fingers, but by the whole hand. But that is just a perk of the release, not the purpose. The purpose of the release is to make the release of the string the same every time, by taking the fingers out of it. Instead, hunters pull a trigger which releases the bow string in a very consistent manner. Like the sight, the release is common, but not necessary.

So what does all this efficiency cost? Compound bows do cost (generally) more than recurve bows. But you can always buy second hand, if money is a big problem.


Recurve Bow

The recurve bow has come a long way from the original bow and arrows in history, but it retains the spirit of its ancestors. The recurve bow has less machinery than a compound bow, but is still just as lethal.

In contrast to the compound bow, there is no break over point, so sitting at full draw for long periods of time is not really an option. Attempting to hold that much pressure for any length of time can result in shaking of the bow and your aim. However, because there is no break over, the amount of time from draw to shoot can be significantly smaller. Because of this fast shoot time, recurve bows are great for taking small, quick game such as rabbits.

Also because you must release quickly, you don't have tons of time to adjust your aim. This is yet again, why hunting with a recurve can be argued as more instinctual than hunting with a compound bow. It also allows you to restring quickly, which is great for multiple fast game shots (or if you are being attacked by zombies). And because you can't shoot as far, you may need to put more effort into stalking your game to get closer. Nothing draws out hunting instincts like stalking game.

On the money front, recurve bows are, on the whole, cheaper than compound bows. But it really depends on what you buy.


Conclusion

Compound bows and recurve bows are both capable of killing animals. Compound bows allow the hunter to shoot further and hold at full draw longer due to the mechanical assembly of the bow. This makes them good for wooded areas where waiting to get a shot takes some time. Recurve bows require the hunter to be more "instinctual" in their shooting due to a short draw time, and, because of this, are better than compounds for small game. Compound bows generally cost more than recurve bows, but both can be expensive as you increase quality. Even after you take all this into consideration, whether you should hunt with a compound bow or recurve bow essentially comes down to personal preference.