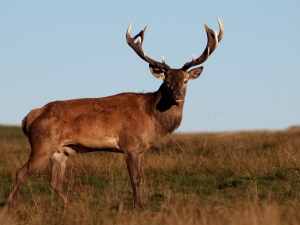 By Jeff Stevens
Antlers, the only tissue that grows faster than any other, are commonly found on the heads of deer. They begin growing in the spring and are initially soft. During the summer, antlers are known to grow at a rate of one inch per day. They stop growing in the fall, when they harden. During the winter months, the deer naturally shed their antlers as they wait for a new pair to grow in. Male deer typically use their antlers as defensive weapons. Humans have used shed deer antlers for tools, weapons, decorations, and even medicinal purposes. Other than deer and humans, there is one more species that will find antlers desirable—dogs.

Deer antlers make excellent chew toys for dogs. It is a dog's natural instinct to chew and deer antlers definitely can come in handy for that. Deer antlers can be bought year-round from a retail store or naturally found during the winter. Some people even specifically train their dogs to hunt for deer antlers. The best breeds of dogs to train to find deer antlers are retrievers, since the training requires a lot of focus on hunting and retrieving instincts. Some kennels offer programs on deer antler training that are similar to police dog training and some even sell dogs that are pre-trained. In order to train your own dog to hunt for deer antlers, it is important that it is enthusiastic about retrieving objects, it is familiar with the scent of the antlers, and that you practice by using a hide-and-seek method. The only downsides to manually hunting for deer antlers are that you may or may not be successful in finding any and they are only available in the winter so you will have to bundle up. The plus is that if you find your own you will not have to pay money to buy any and you will get to spend quality time with your dog.

If you do not have the time or desirability to train your dog to hunt for deer antler, the alternative option is to buy them from a retailer. They are available from large retail chains like PetSmart and PETCO and can also be bought through independent retailers. The benefit to buying deer antler in the store is that you can choose from different sizes and continue to purchase them year-round and they are still all natural. Popular brands of deer antlers are Pet Expertis, Chasing Our Tails, and QT Dog. The average price range for a retail deer antler chew is between $6 and $40, depending on the size that you want based on the size of your dog. Dogs that are between 10 and 55 pounds should chew on antlers that measure between 3 to 6 inches in length. Dogs that are between 33 and 66 pounds should chew on antlers that measure between 4 to 8 inches in length. Dogs that are over 130 pounds should chew on antlers that measure between 8 and 11 inches in length. Dogs that are over 175 pounds should chew on antlers that measure between 10 to 14 inches in length.

There are many benefits that come with deer antlers for dogs. First, deer antlers contain various minerals such as iron, phosphorus, sulfur, calcium, magnesium, potassium and zinc. These minerals will help supplement your dog's nutrition and may result in a healthier coat, improved kidney system, and cleaner teeth. Deer antlers are 100% natural and contain no odor. They are durable, do not splinter, and last longer than other dog treats. Unlike pig ears, which are a popular chewing option, they are low in calories. However, do not forget to periodically monitor your dog's interaction with a deer antler. Over time they do get smaller so make sure it does not get small enough for your dog to swallow and choke on. If your dog chews on it too hard, check it to make sure that it hasn't become sharp. If any part of it has become sharp or rough then you should smooth it back down with sandpaper. Finally, watch how your dog initially reacts to it. It may be uninterested due to the lack of smell and taste. This can be fixed by rubbing some peanut butter on the antlers.

If you are looking to reward man's best friend while having the benefit of improving its health at the same time, deer antlers are a great option. Use them as a gift to reward your dog for learning something new, listening, or just to remind it that you love it. In return, your dog will love you for its new chew toy and will leave your brand new pair of shoes alone. Deer antler chew toys are inexpensive, healthy, and a great alternative for chewing something that isn't meant to be chewed.