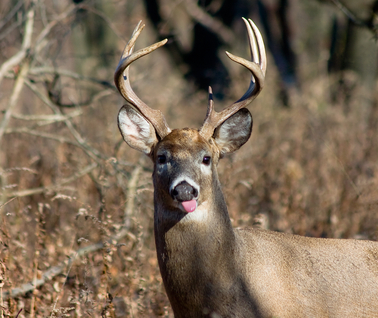 By Matt Carroll
Homemade Mineral Lick for Deer

Minerals are a part of a deer's diet. These minerals are important for healthy deer and for deer antler growth. If you don't supply deer with these quality minerals, they will either have growth problems, or just go find them elsewhere. So to draw deer to your hunting spot, you must provide minerals in the form of mineral licks. However, this is a form of baiting, and laws vary from state to state. So make sure you know whether or not baiting is legal in the state you're hunting in.

You can find mineral lick materials at most local farm supply stores, such as Southern States or Tractor Supply. You can buy a manufactured bag, or a mineral block or rock at a store, but you will end up spending $10-20 for a 5lb bag. That can add up fast. So what can the money conscious deer hunter do? Make your own mineral lick..


Ingredients

Calcium and phosphorous are the most abundant minerals in deer antlers. So this mineral lick is comprised based on that. Dicalcium phosphate (a dietary supplement) and one of the following: red trace mineral rock salt or regular sodium chloride (table salt). The ratio of phosphate to salt should be 1:4. So, depending on how much mineral lick you need, you may use:



5 lbs dicalcium phosphate and 20 lbs salt, or


13 lbs dicalcium phosphate and 50 lbs of salt, or


25 lbs dicalcium phosphate and 100 lbs of salt.



Just mix together the ingredients and you have a home made mineral lick.


Homemade vs. Pre-Made

So, let's take a look at the price difference. I found a 4 lb bag of dicalcium phosphate for $10 and a 50 lb bag of salt for just $4. So, if we were to make the 50 lb option, we would need about three bags of dicalcium phosphate, which is $30. Add that to our $4 bag of salt, and we have 62 lbs of mineral lick for just $34. To buy 62 lbs of mineral lick at the store, we would spend around $120. That is a savings of about $90!!


When to use a Mineral Site

So now that we know that making your own mineral lick is way cheaper, let's talk about logistics. Antlers start to grow in mid-late March. Put the mineral lick out in February to give deer time to find it. You should replenish the mineral site at least every year. In areas with a dense population of deer, you should replenish the mineral lick multiple times a year if it is heavily used. If you have trouble getting deer to hit the site, mix some extra salt in on the top. The extra salt will attract the deer.


Where to put a Mineral site

A good place to put the mineral lick is close to a heavily used deer trail. It is best if you have a water source near by, if possible. It has been said the deer like to drink after licking from a mineral site. I have witnessed deer doing just that countless times. You may also want to put a mineral lick site on the edge of a food plot or other food source. Do not put the minerals in a place that's prone to flooding, or it will just get washed out and become useless. Make sure whatever area you decide on has good loose soil. Dig a 4 ft x 4 ft area using a shovel and/or hoe. Make the hole 3-4" deep. Mix the mineral in with the loose soil and shovel it back into the hole. Wait for a good rain to soak the minerals in and you should see signs that its being used within a couple weeks. If you are lucky enough to have a lot of acreage to hunt, its recommended to have one mineral lick site for every 25 acres.

Minerals are one of many vital supplements you can apply for good antler growth and deer health. Creating Mineral lick sites are crucial part of any QDMA plan. To save some money, make your own mineral lick, and watch the antlers grow...