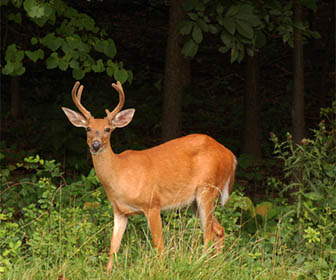 By Matt Carroll
These are the current proposed dates for the Kentucky Deer Hunting Season.

Kentucky has been known as a "sleeper state" for the last decade or so, but it is starting to wake up as people begin to realize the quality and number of deer coming out of the state. Over the last few years Kentucky has moved up the ranks to become a top contender for Boone and Crockett trophy bucks.

Regardless of county, each hunter must have a valid hunting license and a "tag", which is a permit that allows the hunter to kill two deer. Either:
- one antlered and one antlerless, or
- two antlerless
Additional tags may be purchased, but no matter how many deer you kill, the Kentucky state limit on antlered deer is one per person.

Depending on what county you are in, there are different hunting season dates and different deer limits. You can see all hunting dates for Kentucky in 2013-2014 here.


Kentucky Zone 1 Deer Hunting Seasons

includes the following counties: Anderson, Ballard, Boone, Bracken, Calloway, Campbell, Carlisle, Carroll, Christian, Crittenden, Franklin, Fulton, Gallatin, Grant, Graves, Harrison, Henry, Hickman, Jefferson, Kenton, Livingston, Lyon, Marshall, McCracken, Oldham, Owen, Pendleton, Robertson, Scott, Shelby, Spencer, Trigg, Trimble, Washington, and Woodford counties.

In these counties you are allowed to take one antlered deer and an unlimited number of antlerless deer, as long as you buy the Additional Deer Permits necessary.

Archery: Sept. 7, 2013 - Jan. 20, 2014 (either sex)

Modern Gun: Nov. 9-24, 2013 (either sex)

Crossbow: Oct. 1-20, 2013 and Nov. 9 - Dec. 31 (either sex)

Muzzleloader: Oct. 19-20 and Dec. 14-22, 2013 (either sex)

Youth-Only Firearms: Oct. 12-13, 2013 (either sex)

*Free Youth Weekend: Dec. 28-29, 2013 (either sex)
*During the Free Youth Weekend, hunters 15 and under may hunt with a firearm without a license or deer permit, as long as they are accompanied by an adult.


Kentucky Zone 2 Deer Hunting Seasons

includes the following counties: Allen, Bourbon, Boyd, Bullitt, Carter, Fayette, Fleming, Green, Greenup, Hardin, Hart, Henderson, Hopkins, Jessamine, Larue, Lawrence, Lewis, Logan, Mason, McLean, Mercer, Muhlenberg, Nelson, Nicholas, Todd, Union, and Webster counties.

In these counties you are allowed a total of four deer. Only one may be antlered. So at a maximum, you can kill one antlered deer and three antlerless deer OR four antlerless deer. When shooting more than two deer you must buy an Additional Deer Permit in addition to your normal permit.

Archery: Sept. 7, 2013 - Jan. 20, 2014 (either sex)

Modern Gun: Nov. 9-24, 2013 (either sex)

Crossbow: Oct. 1-20, 2013 and Nov. 9 - Dec. 31 (either sex)

Muzzleloader: Oct. 19-20 and Dec. 14-22, 2013 (either sex)

Youth-Only Firearms: Oct. 12-13, 2013 (either sex)

*Free Youth Weekend: Dec. 28-29, 2013 (either sex)
*During the Free Youth Weekend, hunters 15 and under may hunt with a firearm without a license or deer permit, as long as they are accompanied by an adult.

Continued - Kentucky Deer Hunting Season 2013-2014 Zones 3 and 4